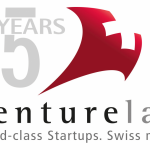 Webseite Venutrelab Ltd. (Venture Kick)
"World-class startups. Swiss made."
Would you like to contribute to the development of high-tech entrepreneurship in Switzerland? You're a highly motivated personality with strong organizational skills? Then join us at our startup space in Zurich as a
Project Manager Venture Kick
As part of the team, you will be driving the successful operation of our flagship program «Venture Kick«. Based in Zurich and Lausanne, Venturelab AG provides tools and trainings for startups and manages numerous entrepreneurial programs with public and private partners. Venture Kick, managed by Venturelab, is a philanthropic initiative of a consortium of private donors that offers entrepreneurs the opportunity to obtain up to CHF 1,000,000 in financing, advice from experts, and access to a network of investors.
Your Mission
Project management with Venture Kick as the main focus
Scouting of startups, pipeline management, and administrative support
Program promotion, organization, and participation in events
Expected Skills and Experience
Bachelor's or master's degree in a business-related or technical field (university, ETH/EPFL, university of applied sciences)
Strong sense for an efficient organization, promotion, and implementation of programs, events, or workshops
Passion for high-tech and life science entrepreneurship (startup experience is a plus)
A highly reliable personality who likes to work in a team as well as independently with partners, universities, and students
Comfortable in a digital environment (office tools, social media, CRM, video conferencing) with in-depth knowledge of PowerPoint and Excel
Business fluent in German (native/C2) and English (C1/C2)
Application Process
Please only apply through the online recruitment tool with a meaningful CV and cover letter in English. Mention why you want to work for Venturelab (Venture Kick), tell us what excites you about the Swiss startup ecosystem, and let us know your three most promising Swiss startups.
We look forward to reading your application!
Employment level: 100
Workplace: startup space (Schlieren-Zurich), combined with working from home
Contact: Philip Hassler, Co-Managing Director, philip.hassler@venturekick.ch
Selection for interviews: ongoing
Start: January 3, 2022 or as soon as possible