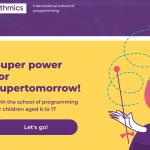 Webseite Algorithmics International School of Programming for Children
looking for the teacher to teach programming courses to children based in Zurich (Uster) from Coding Knight, Computer Literacy, to Game Design, Blogging, Python (Level I, II).
What you will have to do:
1. Create a cool, driving environment that you and your students would rush to every day. Set the mood!
2. Teach and inspire. The groups are small, up to 12 students. We have our own platform where the kids post their projects, vote, communicate, write their own applications and games. You will also be interested.
The tasks are already selected in a super-professional manner. Your task is to motivate, guide, and help if something does not work out.
3. Provide feedback for parents on their children's successes, difficulties, and so on. Not every day but 4-5 times during a course.
What skills are required?
– Technical or IT educational background (or relevant experience from IT courses)
– Pedagogical or psychological education (it can be a second specialty or complementary)
– Work experience as a camp counselor or teacher
– Experience of training children
– Experience of working with children, especially of this particular age group (5-7 or/and 9-10 years old)
– An ideal candidate is a specialist with relevant experience in IT, or a computer science teacher with experience of working with the students of the required age and level (5-7 or/and 9-10 years old)
What we offer from our side
1. A cool team of young, vibrant pros! A team to hang out together and to learn from.
2. Training not only at the beginning but also during the process.
3. The support, love, and help of our tutors.
4. About money — CHF 70+ for one lesson (90 m).
5. We will provide you with workload. We are growing at a cosmic speed and ready to give you as many groups as you can teach without straining
6. Classes offline 1-2 times a week in Zurich Oberland (Uster) or/and can be remote work. You choose the schedule on your own: on weekdays and on weekends
Job Types: Part-time, Side job, Freelance
Part-time hours: 8 per week
Salary: From CHF70.00 per hour
Benefits:
Work from home
Schedule:
Weekends
Supplemental pay types:
Performance bonus
Language:
English and German (Preferred)
Application Deadline: 12/02/2023
Expected Start Date: 28/02/2023